Guest Accommodations
Rancho Del Rio
4199 Trough Rd, Bond, CO 80423, USA
970-653-4431
Rate:
Per campsite
Rancho Del Rio is where the wedding weekend is going down!
Rancho Del Rio is located in the Rocky Mountains right on the Colorado River and along the Colorado River Headwaters Scenic Byway. It provides a campground, cabins, and river access for fantastic rafting, fishing, and floating. Their services include: vehicle shuttles for river users, a convenience store with gasoline, an outdoor restaurant featuring KK's 'World Famous BBQ', and a liquor store.
We have reserved half of the beautiful, riverside campground including a spacious, tent-covered pavilion deck, and three campground shade pavilions. Bryan & Miki will be camping for the weekend and would love you to join the wedding campout, there is ample room for all friends & family who desire tent camping! Dogs are welcome. There will be grills available for cooking.
There are limited number of cabins on site, which are reserved for immediate family traveling from out of state. Some of the cabins include showers and kitchenettes. If you are interested in staying in a cabin, please reach out to Mikaelyn for availability!
Rancho Del Rio is about 2.5hr northwest of Denver:
https://www.google.com/maps?q=Rancho+Del+Rio&sll=39.908203,-106.678866&spn=0.394290,0.739723&sspn=0.830070,1.557312&num=10&start=0&hl=en
If you are more of a glamper (glamour camper), there are additional cabins/yurts down the road at State Bridge, or several hotels 40mins south of Rancho Del Rio. Please see additional information below.
Collective Vail, a Retreat at 4 Eagle Ranch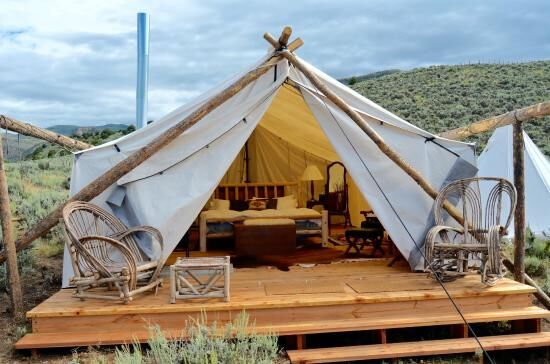 4098 CO-131, Wolcott, CO 81655, USA
970-445-2033

Surrounded by 1,000 acres at 4 Eagle Ranch, Collective Vail gives you a taste of pristine Colorado while still being an easy drive from the modern resort town. Plenty to do or nothing at all, from exploring the surrounding trails by horseback or sipping the best varietals the region has to offer, there's a little something for everyone.
Located about 14 miles (~25min) south of Rancho del Rio.
Hotels in Eagle, Edwards, or Vail
There are multiple hotels and lodging options located in the beautiful towns of Eagle, Edwards, or Vail Colorado. These towns are all lovely, located about 40min south of Rancho Del Rio, and easily access off of I-70 (~2hr west of Denver).
RV Rentals
Need a car rental and lodging? How about a RV?!
There are several RV rental options around the Denver airport and metro area available the wedding weekend. Check out these websites!
Outdoory RV rentals: www.outdoorsy.com
RVShare is similar to Airbnb: rvshare.com
B & B RV: bb-rv.com
**At Rancho Del Rio there is no electrical or water hook up**